We are delighted to welcome the distinguished and pioneering viol consort player Wendy Gillespie as our Overseas Tutor, Easter Viol School, 2017.
Wendy will offer a Choices class "Before the Fantasia" including a plain and easy guide to early notation. The theme of this year's workshop is La Dolce Vita. All things Italian! In honour of Monteverdi's 450th birthday we will play his Ave Maris Stella from the Vespers, 1610. And we revel in Isaac's Italian style with selections from his Missa La Bassadanza written during the 10 years he worked for the Medicis in Florence. We explore how Italian madrigals and Venetian polychoral works influenced the development of the English Fantasia. The school offers opportunities for players from beginners to advanced, including a Beginner Scholarship program.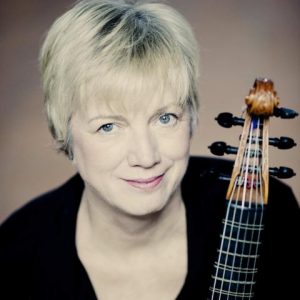 Wendy Gillespie is a musician who teaches early bowed strings, historical performance, and early notation. She has performed all over the world with ensembles ranging from the Ensemble Sequentia to the English Concert, participating in more than 100 recordings for Linn, Harmonia Mundi, EMI, Virgin Classics and other recording companies. As a member of the viol consorts Fretwork and Phantasm, Gillespie has shared three Gramophone awards and several other cool prizes. In 2010, she received EMA's Thomas Binkley Award, and in 2011, the Alumnae Achievement Award from her alma mater, Wellesley College. Wendy is Past President of the Viola da Gamba Society of America and now in her thirty-second year at the Jacobs School of Music in Bloomington Indiana, where she is a Professor of Music. She is very much in favour of books and enjoys marbling paper.